Hope Rosenwald School, Newberry County, SC
The Hope Rosenwald School is significant for its role in African-American education and social history in South Carolina between 1925 and 1954, and as a property that embodies the distinctive features of a significant architectural type and method of schoolhouse construction popular throughout the southern United States in the early twentieth century. Like other Rosenwald schools, the Hope Rosenwald School can trace its origins to the contentious debate over the education of southern African-Americans in the late nineteenth and early twentieth centuries. While the end of the American Civil War had brought about state-initiated funding and operation of some local schools for black children in the South, the policies emphasizing racial segregation during the Jim Crow era left southern blacks with few opportunities for a truly complete primary education and even fewer secondary school options. Among those who sought a method for insuring that black educational opportunities in the South might be improved was Julius Rosenwald, CEO of Sears & Roebuck and a trustee of the Tuskegee Normal and Industrial Institute. At the request of Booker T. Washington, Rosenwald began a school building fund to benefit southern African-Americans, especially those in rural regions, and from 1917 to 1932, Rosenwald's program led to the construction of more than 5300 public schools, teachers' homes, and instructional shops in fifteen southern states, nearly 500 of which were located in South Carolina.
Listed in the National Register on October 3, 2007. The full text of the nomination and additional photos are available at the SCDAH. For more on this remarkable success story in historic preservation, see the interactive slideshow from Columbia's The State online news source. Artifacts from this school appear in the exhibits of the Smithsonian's National Museum of African American History, which opened in 2016.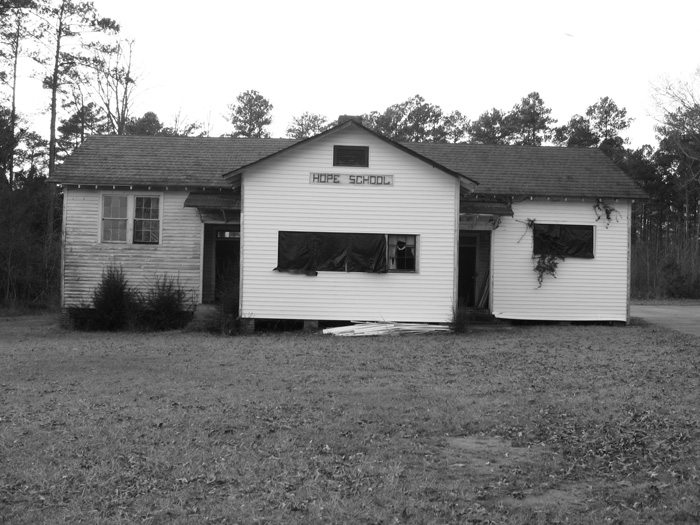 Hope Rosenwald School, 2006
Hope Rosenwald School Dedication, 2009
Artifacts from the Hope Rosenwald School, National Museum of African American History, December 2016